Europass – an important document to be successfull
Unsere 10 ERASMUS+ -Schüler, die am 4. Treffen mit den Austauschpartnern aus Polen, Finnland, Italien und Spanien in Wroclaw/Polen im Februar 2019 teilgenommen haben, sind stolze Besitzer des "EUROPASSES".
Dieses europaweit anerkannte Dokument belegt die vielfältigen Fähigkeiten, die die Ursulinenschüler während der Mitarbeit im Projekt "YOUNG TOURISM: listen and discover." und im Besonderen bei der Mitgestaltung der internationalen Konferenz in Polen erworben haben: interkulturelle, digitale, fremdsprachliche Kompetenzen sowie so genannte "Querschnittsfähigkeiten" beispielsweise in den Bereichen Projektmanagement, Teamwork, Selbständigkeit.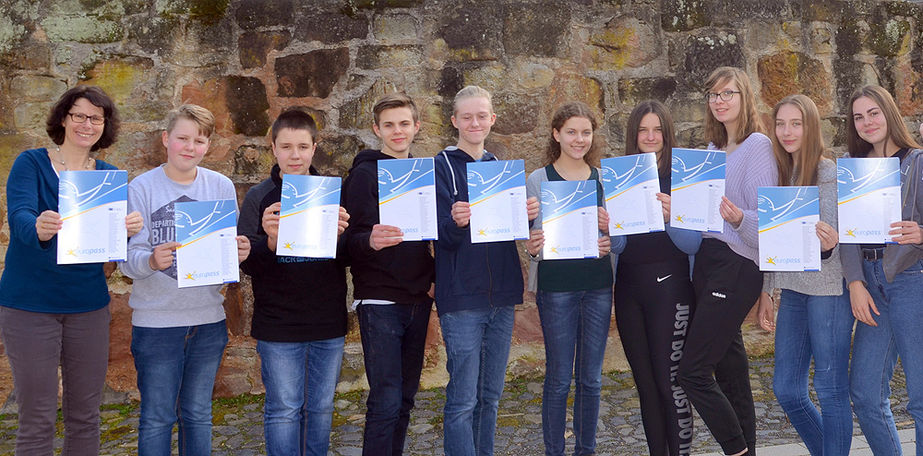 Foto von links: Frau Anders, Konrad Stieglitz, Phillip Schmidt (beide 8G2), Justin Iglhaut (10G3), Moritz Winkler (9G1), Maya Braun (8G3), Dominika Filipczak, Emma

Abiturienten berichten, wie wertvoll dieser Pass bei Bewerbungen sei: Er diene als Beleg für die Aufgeschlossenheit des Bewerbers und unterscheide ihn klar von Mitbewerbern.
Auch im Studium kann der Europass sehr wichtig sein: Wenn man im Rahmen von "ERASMUS" ein Auslandssemester absolvieren möchte, hat man deutlich bessere Chancen, da man bereits an einem ERASMUS+ – Schulprojekt teilgenommen hat.
Birgit Anders (ERASMUS+-Projektkoordinatorin)